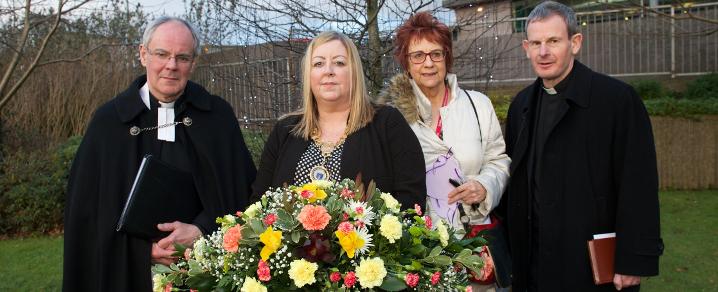 A special service to those lost
I was honoured to once again be part of the memorial service held for those lost to suicide, although this was the first time I had attended in my role as Provost.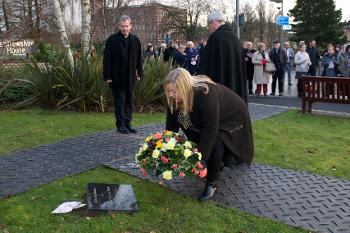 It was a privilege to lay a wreath of flowers at the memorial tree as we remembered those who have been lost to suicide, and I got to share lovely memories with some of my own relatives as we paid tribute to Vinny, a special family member we lost a few years ago.
Alongside former Provost Celia Lawson, I helped establish the tree in the grounds of Renfrewshire House back in 2010.
I felt it was appropriate for the Council to provide the community with a place to pay their respects, not only at this service but all year round.
We were delighted at the number of people who attended in that first year and the service has grown and grown throughout the years, with around 100 people in attendance once again this year.
Purple hearts were placed on the tree with messages from friends and family members of those who have been lost to suicide.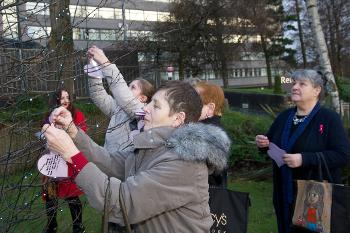 Those who missed the service can ask at the council reception any time for a heart and can place it on there.
It's hugely important that we continue to break the silence which can often surround this issue and ensure people know that there is support available for them should they be dealing with suicidal thoughts or have lost someone close to them to suicide.
The Choose Life team do incredible work in providing this support and I would encourage anyone who feels they may benefit from some help and advice to get in touch with them.
You can call the Choose Life Team on 0141 849 2200, Samaritans on 116 123, Breathing Space on 0800 83 85 87 or RAMH First Crisis on 0141 849 9090.
Or go along to the Survivors of Bereavement by Suicide (SOBS) group who meet on the last Wednesday of every month at Johnstone Day Care Centre from 7.00-8.30pm.
Don't suffer alone, there's always a positive future.
Lorraine.
Published 2 February 2018.