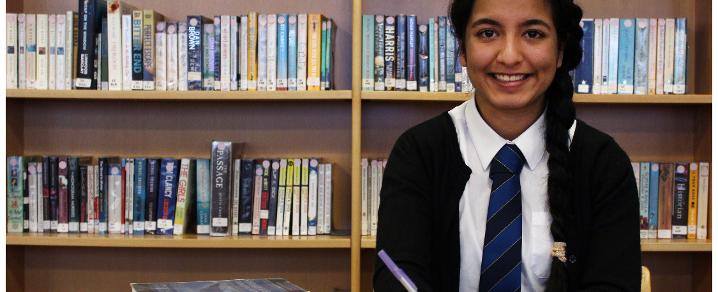 Renfrew student makes Scotland's top young writer shortlist
Renfrew High School student Sherzah Jamal has made the top 20 shortlist in the Scottish Schools' Young Writer of the Year competition.
She's now in the running for the top prize of £500, with the winner to be announced on 29 January.
Sherzah said she was delighted to make the shortlist for her essay on the conservation of endangered animals.
"My inspiration came from an article I read in the National Geographic that made me realise how urgent the need is to do something for animals at risk," she said.
"In my essay I envisaged a world where half the earth was set aside for all species as a solution to the potential extinction crisis.
"I'll have my fingers crossed when they announce the winners at the end of the month, but overall it's been a very worthwhile and enjoyable process."
The competition invites students aged 15-18 to submit a non-fiction piece of 900-1,100 words on a subject of their own choice.
Head Teacher of Renfrew High School, Billy Burke said: "This is another example of excellence in Renfrew High.
"The school is very proud of Sherzah and the staff who have helped develop her literacy skills to this extremely high level.
"It speaks volumes that she chose to write about how we can work together to improve the world around us as this reflects the vision and values of our school community."
Convener of Education and Children's Services at Renfrewshire Council, Councillor Jim Paterson said: "Sherzah is a shining example of a student striving to reach her full potential.
"Raising literacy levels in schools is a significant part of Renfrewshire's ambitions, and I encourage all students to take the opportunity to develop their literacy skills wherever they can.
"Encouraging our young people to enter competitions such as the Scottish Schools' Young Writer of the Year is a great way of helping them to gain confidence in expressing themselves through the written word."
Published 16/01/2018