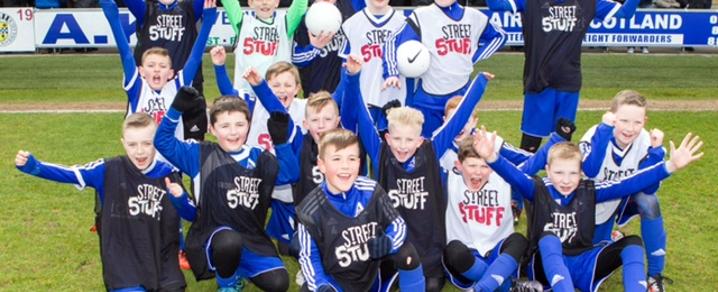 Street Stuff a winner with local youth
Renfrewshire's Street Stuff initiative was hailed as a top performer at the Scottish Public Service Awards (SPSA) for its unique programme of diversionary activities and support programmes for young people across Renfrewshire.
The initiative took out the Community Engagement category at the fourth annual SPSA ceremony in Edinburgh on Monday night (4 December 2017).
Councillor Marie McGurk, Renfrewshire Council's Convener of Communities, Housing and Planning Policy Board said: "I'm thrilled to see Street Stuff winning recognition for the major impact it continues to have on the Renfrewshire community.
"The strength of the programme is evident, with a massive 43,000 recorded attendees of activities such as football, dance, gaming and clubbercise in the past year alone.
"These activities go a long way to improving social inclusion opportunities for young people who may not otherwise have had access to such opportunities."
Street Stuff is a partnership between Renfrewshire Council, St Mirren FC, Engage Renfrewshire, Police Scotland and the Scottish Fire and Rescue Service.
It has been making a difference locally since 2009.
The SPSA award is the third honour for Street Stuff this year. The initiative also won the Local Matters category at the Convention of Scottish Local Authorities (COSLA) Awards and the Community Champion category at the Renfrewshire Chamber of Commerce ROCCO Awards.
The Community Engagement award "recognises the work of public bodies in ensuring that the communities they serve are fully engaged in the development and delivery of public services in their area".
Additional background:
· Street Stuff has been delivering activities in Renfrewshire since 2009, delivering a sustained reduction in reported youth disorder and anti-social behaviour.
· Across Renfrewshire there has been a 65 per cent reduction in youth disorder and anti-social behaviour since the programme began
· There has been a 72 per cent increase in participation levels over the past two years (25,000 to 43,000).
· Over 43,000 participants took part during 2016/17 - an increase of 6,000 from the previous year.
Published on 6 December 2017