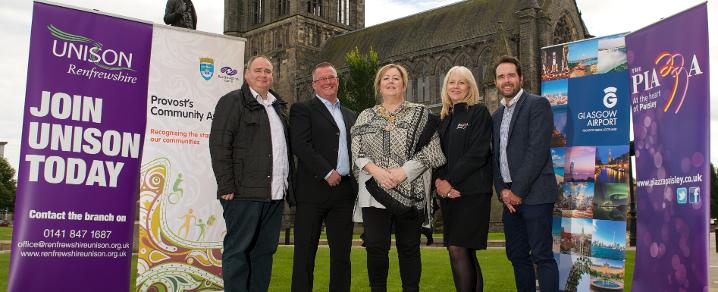 Six chances to nominate your unsung heroes
The nomination period for the Community Awards is well underway and we've already had some terrific nominations across each of the categories.
This year there are six categories this year as I felt we should introduce an Arts and Culture award to compliment the other five, an award which would be particularly apt as a decision looms on whether Paisley will be named UK City of Culture 2021.
Taking on the role of Provost means I meet many fantastic people across Renfrewshire and find out their stories firsthand.
However, the Community Awards offers the opportunity for those people who are making a difference to our communities that I haven't had the fortune of meeting, the chance to be recognised.
So if it's a family member, a friend, a group or anyone that makes a difference, make sure you take this opportunity to nominate them and let them know they are appreciated.
Here are the six categories you can nominate in this year.
Arts & Culture
This category is open to either individuals or groups who have demonstrated their creativity through the common elements of arts and culture for the benefit of the community and not for profit.
Carer's Award
Open to any individual or group who offers care to a relative, friend or neighbour. Many unpaid carers in today's society - e.g. a friendly neighbour who "pops in" to check on their elderly neighbour on a weekly basis.
Community Group
Recognises groups involved in improving their community, e.g. supporting others to make their lives better; involvement in local environmental project; helping establish a community event; contributing to improving community safety, etc.
Community Volunteer
Recognises individual contributions to the community and their dedication to the people and organisations that benefit from their selfless endeavour.
Employer of the Year
This category is for employees who wish to nominate employers who have provided excellence in training, support and developing skills within the workforce.
Sporting Achievement
This category is open to either individuals or groups who have achieved sporting success, perhaps having overcome adversity or personal sacrifice to compete.
The closing date for nominations is 1 December 2017.
You can nominate online via the link attached to this page.
Get nominating!
Lorraine.