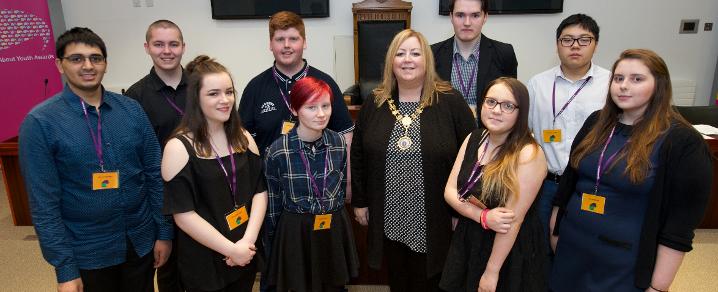 Renfrewshire's Provost gives a warm welcome to Renfrewshire's Youth Commission
Renfrewshire's Provost Lorraine Cameron welcomed Renfrewshire's Youth Commission to Paisley for a special event on mental health.
The Commission's ground breaking symposium on Young People and Mental Health was held in the Council chambers this week where a panel of health experts, managers, policy makers and elected members met with youth commissioners to discuss and answer questions on mental health.
At the first-ever Youth Assembly in Renfrewshire held last year, the subject of mental health was voted to be the main issue which caused the most concern for young people. As a result, Renfrewshire's Youth Commission was set up and this week, they presented their findings and posed questions to experts at the symposium.
Issues discussed at the meeting included addressing the challenges faced day-to-day by young people, the importance of support for young people experiencing difficulties and the benefits of speaking directly to decision makers about mental health.
Another key aspect outlined was the significance of creating a positive environment for young people to grow and be proud of who they are, with Paisley's bid for UK City of Culture 2021 being highlighted as an example of turning a negative into a positive.
Provost Cameron said "I was very honoured to open this event today as Renfrewshire Council are extremely keen to support youth activities.
"The Council Leader, Iain Nicolson, has already met with members of the Scottish Youth Parliament and we have arranged for them to attend the next full Council meeting here and submit a motion to the chamber.
"We are also very supportive of the work that Renfrewshire Youth Voice has done including finding a suitable youth hub where they can discuss subjects that are meaningful to them and to help each other.
"This meeting has helped us understand the improvements and needs that our local youngsters want. More than ever, we are targeting resources towards young people to help raise awareness of mental health issues and we want them to feel more comfortable talking about these issues.
"This was a very significant day for young Renfrewshire citizens."
The youth commissioners have been meeting regularly to learn more about mental health, investigating the services and resources which are available in the area for young people.
The purpose of the symposium was to find out more about the help that is available for young people experiencing poor mental health and what can be done to improve access to these services.
Jack Vaughan, Renfrewshire Youth Commission, said: "The symposium was a fantastic opportunity for young people to have their say on some of the most important issues that they can face.
"Mental health often carries a certain stigma and we came here to engage with senior decision makers about issues that surround the subject for young people in Renfrewshire.
"We look forward to changes that will happen as a result of today's meeting especially finding more ways for young people to prevent or deal with stress, anxiety and mental health problems."
To get in touch with Renfrewshire Council's Youth Services call 0141 889 1110 or e-mail youth@renfrewshire.gov.uk.
Published 27/10/17