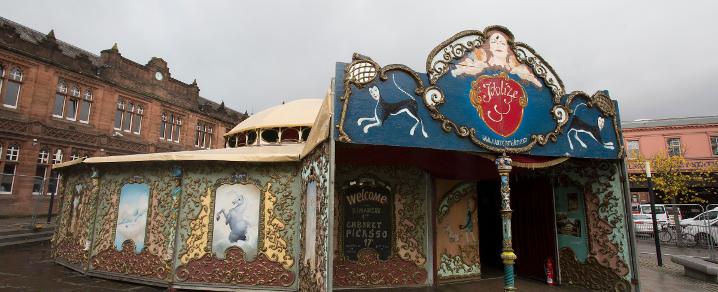 It's not time for the 12 Days of Christmas yet, so have 12 days of The Spree instead!
I can't wait to get involved in as The Spree Festival returns to Paisley for a 12-day spectacular of music, comedy, poetry and more!
There are more than 60 shows taking place as the festival enters into its sixth year and plenty of famous names are set to take to the stage.
Tonight, I'll be attending the launch event in the Spiegeltent as Paisley celebrates its links with India through a special Musical Tapestry concert which looks at our fascinating textile heritage.
Three Scottish musicians will be teaming up with three of their Indian counterparts for a special collaboration which fuses traditional music and instruments from both countries, and I can't wait to see it.
The six have just arrived in Scotland after performing the same show last week at the Rajasthan International Folk Festival which The Spree has been twinned with this year.
I'm looking forward to being back in the Spiegeltent again this year, not least as it's been fantastically designed this year by local artists.
Sign writers and a graffiti artist have been creating artwork inspired by circus posters from the 1920's and 30's, but with a modern twist.
One twist festival goers can look forward to is the sight of a seven metre sign reading 'Welcome to the Spree'.
This year is bigger and better than ever and I'm sure the town will be buzzing with excitement over the next couple of weeks.
Paisley own megastar Paolo Nutini performs next week, Frightened Rabbit will join the Royal Scottish National Orchestra for a sold-out gig in Paisley Abbey and a variety of other shows will give a taste of Scotland's cultural scene across music, comedy, poetry and more.
As we wait to discover whether Paisley will be awarded the prestigious UK City of Culture title for 2021, this is a fantastic way to showcase the town's ability to host large-scale events and I'd urge you all to check out the programme as I'm sure you'll find something you won't want to miss.
Check out the full list of acts at www.thespree.co.uk.
Lorraine.