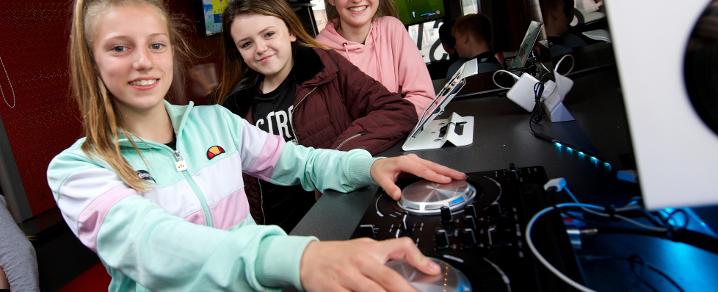 October Street Stuff activities are Wifi enabled
Renfrewshire's Street Stuff has a jam-packed programme for the school holidays - all now with added Wifi.
The week-long October Camp activities get under way on Monday 16 October offering dance classes and football. And the young people taking part in the award-winning initiative are now able to access the internet on some of the buses that they helped design.
More than 250 youngsters involved in the Street Stuff programme told Renfrewshire Council what facilities they would welcome on the new Culture and Youth Buses.
Their comments were taken on board with internet tablets, gaming consoles, DJ decks and free Wifi now installed in two of the new buses.
Street Stuff Manager Stephen Gallacher said: "The amenities on our buses - especially the free Wifi - provide a more accessible window to a huge amount of information and communication possibilities for Street Stuff participants.
"The youngsters can develop their digital skills by linking up together - sharing photos, news and data while having the opportunity to create, explore and discover.
"In addition to our usual scheduled evening activities, we have a whole week of daily activities planned for Street Stuff's October Camp in venues all across Renfrewshire. The buses play a huge part in our timetable and our young people are always excited to use the new equipment in them."
It is currently estimated that around 20 per cent of people in Scotland are unable to access services and opportunities online because they do not have an internet connection at home.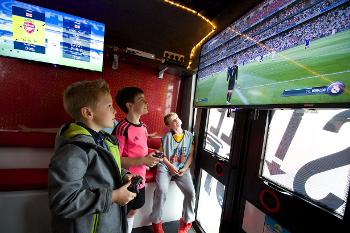 Renfrewshire Council has invested in five Street Stuff youth buses as part of a range of initiatives aimed at supporting those who experience the most barriers towards reaching their full potential.
Street Stuff runs in partnership with St. Mirren FC, Police Scotland, Scottish Fire and Rescue Service, Engage Renfrewshire and Renfrewshire Council, and has been making a difference locally since 2009.
The youth diversionary scheme provides a range of activities across Renfrewshire and has significantly helped reduce and maintain a 65 per cent reduction in youth disorder and anti-social behaviour.
Its impact was recognised last week at the Convention of Scottish Local Authorities (COSLA) Excellence Awards ceremony in Edinburgh, when Renfrewshire Community Safety Partnership and St Mirren FC team were awarded the top accolade for Street Stuff in the 'Local Matters' category.
Councillor Marie McGurk, Renfrewshire Council's Convener of Communities, Housing and Planning Policy Board, said:
"Renfrewshire's Street Stuff project has made a real difference to local young people and they continue to take part in its activities in huge numbers.
"It's great that the buses have been kitted out with what our young people asked for. Giving young people access to Wifi is a significant step in tackling the issues of digital exclusion in Renfrewshire. A big part of our digital strategy is to tackle issues behind digital exclusion - an issue that can affect families on low incomes.
"We've seen how school teachers are using the internet and mobile devices increasingly for teaching and learning purposes. Being able to use the internet means our young people can have greater control over their learning - using devices to search for information, practice skills and present and share their findings to friends and family."
Street Stuff - October Camp 2017
| | | | |
| --- | --- | --- | --- |
| Date | Venue | Time | Activities |
| Monday 16th | St Mirren FC - Paisley 2021 Stadium | 1pm to 5pm | Dance, Football & Youth Bus |
| Tuesday 17th | Hunterhill Community Centre | 1pm to 5pm | Dance & Youth Bus |
| Tuesday 17th | St James Primary School, Renfrew | 1.30pm to 5pm | Dance & Football |
| Wednesday 18th | St Mirren FC - Paisley 2021 Stadium | 1pm to 5pm | Dance, Football & Youth Bus |
| Thursday 19th | Hunterhill Community Centre | 1pm to 5pm | Dance & Youth Bus |
| Thursday 19th | St James Primary School, Renfrew | 1.30pm to 5pm | Dance & Football |
| Friday 20th | St Mirren FC - Paisley 2021 Stadium | 1pm to 5pm | Dance, Football & Youth Bus |
Published 13/10/17