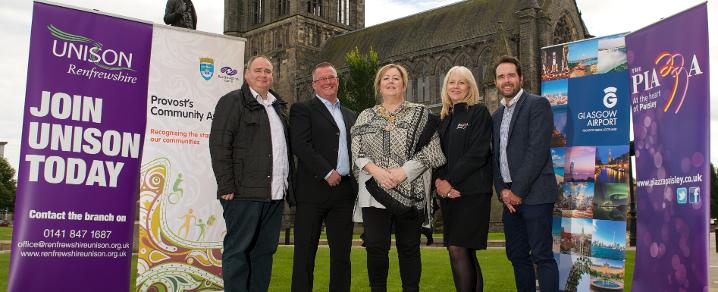 A chance to recognise our local heroes
I'm delighted to be launching the nomination period for the Community Awards which will see inspiring community members rewarded for the time and effort they put in to making Renfrewshire a better place.
This will be my first awards in my role as Provost and it is something I can't wait to be involved in as I know there are so many deserving people and groups in our area.
Every year the standard of nominations is incredibly high and I'm looking forward to being on the panel with the other judges, although I'm not looking forward to the tough decisions which will need to be made!
There have been so many fantastic winners across the years and it is an occasion that brings out a real sense of pride in the talent and community spirit that we have in Renfrewshire.
This year will see the first recipient of the new Arts and Culture award and I'm sure there will be no shortage of nominations.
It seems extremely appropriate to have an award which focuses on Renfrewshire's cultural scene as it has blossomed throughout Paisley's bid for UK City of Culture and unearthed so many talented members of our community.
The Sporting Achievement award will be sponsored by Acre Industrial and will reward those who have excelled in the sporting arena, be it on a local, national or international level.
Glasgow Airport will sponsor the Community Volunteer award which looks to discover those individuals who devote their time to a cause and make a real difference.
The Community Group award will see the Piazza Shopping centre reward the organisations in Renfrewshire who are making a positive difference to their area.
Former Provost Nancy Allison will present the Carers Award to someone who dedicates their time to caring for a relative, friend or neighbour.
Employers who go the extra mile for their staff can be nominated for the Employer of the Year award which is sponsored this year by UNISON.
So as you can see there is no shortage of categories to nominate in so please nominate as many people as you believe are deserving and make our decision as hard as possible.
The closing date for nominations is Friday 1 December and the winners will be announced at a special ceremony in March 2018.
You can find out more about the awards via the link attached to this page.
Printed nomination forms are available at the Council offices.
For further enquiries contact provostawards@renfrewshire.gov.uk.
Lorraine.