Renfrewshire communities called on to 'Team Up to Clean Up'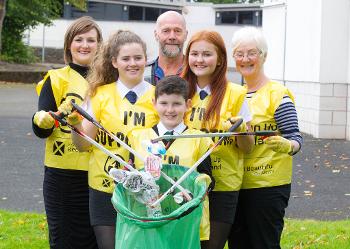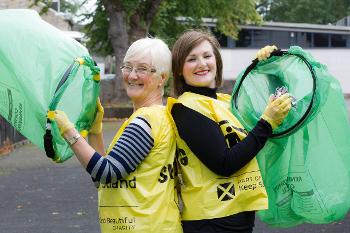 Communities across Renfrewshire are being asked to 'Team Up to Clean Up' as part of a £250,000 investment to improve the area's environment.
The new initiative will encourage Renfrewshire residents to take pride in their area and work together to improve its cleanliness and appearance.
Councillors voted in June to approve the initial investment to clean up our streets and gullies.
This coincides with a community-led campaign to clean up Renfrewshire's streets and parks.
It will be developed over the coming months and will support community members to carry out community clean ups and highlight key issues such as littering, dog fouling and fly tipping.
Community groups, schools, businesses and community councils will be engaged with to create opportunities to improve the Renfrewshire area.
Convener of Renfrewshire Council's Infrastructure, Land and Environment Policy Board, Councillor Cathy McEwan joined Depute Convener, Councillor Natalie Don, at Trinity High in Renfrew to launch the campaign.
Councillor McEwan said: "Having listened to our residents, it was identified that the cleanliness of our streets was a key issue we need to address which is why we have made this £250,000 investment.
"We will be making improvements to our road sweeping, gully cleaning and roads infrastructure to ensure that we are doing all we can to improve the standards of cleanliness in Renfrewshire on an operational level.
"But we want to promote a pride in Renfrewshire's appearance and this means we need everyone to work together to make our area a cleaner, brighter and more attractive place to live.
"If we all work together to avoid littering, fly tipping and other damaging activities then we will see the standards improve almost immediately.
"So please get involved, take part in the community clean ups and let's 'Team Up to Clean Up' the Renfrewshire area."
The investment will see an increase in mechanical road sweeping as well as gully clearing across Renfrewshire which will improve the areas resistance to flooding and improve the condition of the roads.
There will also be an expansion of the Rapid Response Team to ensure a focus on Renfrewshire's villages and the team will continue to identify and remove unsightly rubbish from key hotspot areas.
A detailed inspection of the current roads infrastructure in Renfrewshire is currently taking place which will inform the repair, replacement and cleaning of signage, removing anything redundant.
A dedicated section of the Renfrewshire council website is being created which will provide information on the campaign and how to get involved.
Published 31 August 2017