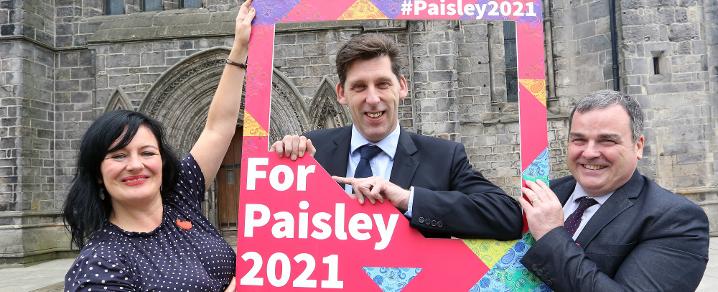 ​​​​​​​UK Government Minister for Scotland offers his "whole-hearted support" for Paisley 2021
UK Government Minister for Scotland Lord Duncan has backed Paisley 2021 as Scotland's bid for UK City of Culture 2021.
The Scotland Office Minister put his support behind the town's ambitious bid during a visit to Renfrewshire on Tuesday (22 August).
Lord Duncan was welcomed to the town by Renfrewshire Council Leader Iain Nicolson, who is also chair of the Paisley 2021 partnership board, and by Council Chief Executive Sandra Black.
He also met Paisley 2021 Bid Director Jean Cameron who outlined the importance of culture in improving people's lives and explained how Paisley's bid is part of a wider push to regenerate the town and transform its future.
UK Government Minister for Scotland Lord Duncan said: "I am in Paisley to lend my whole-hearted support to its bid to become UK City of Culture 2021. The transformation in the townscape and the area's fortunes over recent years has been something to behold.
"Being crowned UK culture capital would be a fitting reward for all the hard work done by all the folks in Paisley. I have no doubt that the accolade would benefit all of Renfrewshire."
As part of his visit, Lord Duncan was given a guided tour of Paisley Abbey. A keen artist and with a degree in Geology and a PhD in Palaeontology, he heard about its history as the cradle of the Royal House of Stewart, believed to be the birthplace of King Robert II of Scotland and the resting place of six High Stewards of Scotland.
He was also updated on details of the 'Wee Dig', an exciting archaeological project which starts in September, looking at a previously unexplored section of the Abbey Drain site.
Earlier in the day, Lord Duncan heard about development of the Glasgow Airport Investment Area (GAIA) during a visit to the University of Strathclyde's Advanced Forming Research Centre (AFRC) in Inchinnan.
The £39.1million GAIA infrastructure project - being delivered by Renfrewshire through the Glasgow City Region City Deal - includes new roads, bridges, cycle paths and pedestrian walkways to facilitate the creation of a world-class commercial area around Glasgow Airport and existing manufacturing centres, all connected by air, sea and land.
If approved, the project could create up to 10,600 jobs and secure £430million in private sector investment to the area, complementing the work of the AFRC which is a globally recognised centre of excellence in innovative manufacturing technologies, research and development and metal forming and forging.
Lord Duncan added: "The UK Government has been putting its money where its mouth is. As part of the Glasgow City Region Deal, Renfrewshire has shared in £1 billion of government funds, with investment in projects like the Glasgow Airport Investment Area. Money well spent."
Renfrewshire Council Leader Iain Nicolson said: "It was good to welcome Lord Duncan to Renfrewshire and for him to take time out to hear about our ambitious plans for the area. Our bid to be UK City of Culture in 2021 has gained support from across the political spectrum and from major organisations such as Visit Scotland, Creative Scotland, Glasgow Life and Glasgow Airport.
"The bid, and the Glasgow Region City Deal infrastructure investment in Renfrewshire are part of our determination to restore pride in the area and ensure Renfrewshire is an attractive place to live, work and visit."
Photo shows (l-r) Paisley 2021 Bid Director Jean Cameron; UK Government Minister for Scotland Lord Duncan and Renfrewshire Council Leader Iain Nicolson outside Paisley Abbey.
Published 23 August 2017