Just a normal girl from Glenburn
I thought it would be nice to give people an insight into the woman behind the fancy gold chain, if only to make sure everyone knows that I am just the same girl from Glenburn I always have been.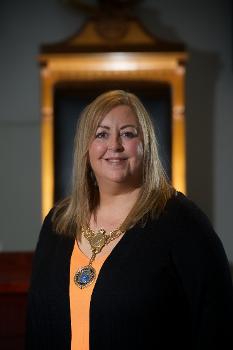 Becoming Provost of Renfrewshire was somewhat unexpected so I never really had much time to be worried about it!
It has caused some excitement and hilarity in my family, with my children being particularly bemused and proud at the same time.
There is no getting above your station with my family and friends though and my little grandson Jack, who is 6, now believes we should address him as the 'Prince Provost', so I guess he is relishing his Gran being Provost!
However I recognise the privileged position I find myself in and I am taking the role with the seriousness that it demands.
I see the role as being vocal and visible in supporting Renfrewshire and its citizens, inclusive of race, religion, gender or sexual orientation.
I want to be a Provost that everyone has access too should they need or want it and I will offer my support wherever possible.
As part of my role, I want to encourage young people to consider being a councillor, and that it is a role that they can, and should, consider now - not in their middle age.
The most election saw many more young people and women elected to the council and I was absolutely delighted. It's a good start to changing the face of local politics.
The Provost's role in Renfrewshire has been long associated with charitable work and my predecessors have made significant contributions to causes within Renfrewshire.
I will continue to support the charities that are long held dear by previous Provost's, including Accord and St Vincent's Hospices.
I have yet to decide what my fundraising efforts will consist of or what other charities I will be supporting, but they will be local.
One thing is certain though, I will not be following in the footsteps of the previous, and very brave, Provost Anne Hall.
I've got more stamina than courage so skydiving just won't be for me!
I've thoroughly enjoyed my time as Provost so far and I can't wait for what lies ahead.
Lorraine
Published 6 August 2017