Let's show Paisley can win UK City of Culture 2021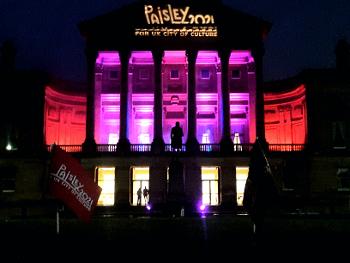 I am absolutely thrilled with the news that Paisley has been shortlisted for the title of UK City of Culture 2021.
I'd like to join the team behind the Paisley 2021 bid in saying a massive thank you to the people of Paisley and Renfrewshire for your outstanding contribution as the town takes its exciting journey on to the next stage of the competition.
Paisley was named on the shortlist alongside Coventry, Sunderland, Stoke-on-Trent and Swansea and it is sure to be a passionate but friendly contest between the five fantastic locations.
Being shortlisted by the judges is a major endorsement of our ambitions for Paisley and the wider area and now it is up to us to show them that we can win it.
It's a proud time for all Buddies as getting to this stage has raised awareness of Paisley's internationally-significant story to a new heights, while also changing public perception of the town.
If successful, Paisley will host some of the world's top performers and cultural acts with more than a million people expected to visit the area in 2021.
This will really transform the town's future, allowing Paisley to attract massive investment and build a new town centre economy with tourism and creativity at its heart.
It will also be an exciting time for everyone over the coming months as we look to build on the fantastic work that's already been done and further convince the judges that Paisley will deliver a year of world-class culture.
We have fantastic upcoming events such as The Spree Festival, including Paolo Nutini's special homecoming charity show at Paisley Abbey, the annual Halloween Festival, Paisley's Christmas Lights Switch On and so much more.
This is the perfect opportunity for Paisley to showcase its proven track record in hosting major events and show just what we have to offer.
I'm sure I speak on behalf of the Paisley 2021 team by wishing the best of luck to the other shortlisted locations and I urge everyone in Renfrewshire to back the bid and show why Paisley deserves to be crowned UK City of Culture 2021.
Lorraine
Published 22 July 2017