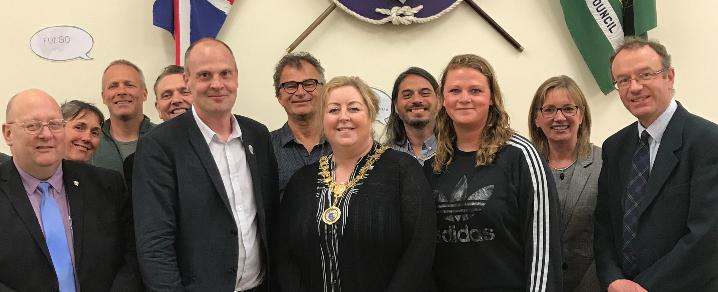 Paisley's twin comes to visit
I was delighted to welcome our friends from Gladsaxe in Denmark to Renfrewshire last week as 28 school children visited on a film-making visit.
Paisley has been twinned with the Danish city since 1990, although the first contact between the towns dates all the way back to 1957 when the Boys Brigade made contact with the FDF Gladsaxe Brass Band.
The following year the first school exchange was established between the two areas and the links continued until the official twinning took place as the 90's began.
It was fantastic to meet our visitors and I was glad to host a civic reception at Lapwing Lodge for the teachers and the pupils to enjoy and to find out a bit more about what they hoped to achieve on their visit.
The young people from Skovbrynet School were eager to discover how their peers in Scotland learn and what it is like to grow up in another country.
They therefore visited Renfrew High School to create a short documentary which they can take back to Denmark and showcase how other cultures approach the school system.
Interviews were carried out between the pupils on a variety of topics and, in order to help improve the Danish pupils' language skills, they were conducted in English.
The two schools worked brilliantly together and are now looking to continue their relationship in the future and make the most of the opportunities having a international learning partner can bring.
Before heading to Perthshire for the remainder of their trip, our visitors were able to explore Paisley and experience the architecture and culture we are so proud of in Renfrewshire.
It was fantastic to have our friends from Denmark visiting and we will continue to maximise our town twinning links in the future.