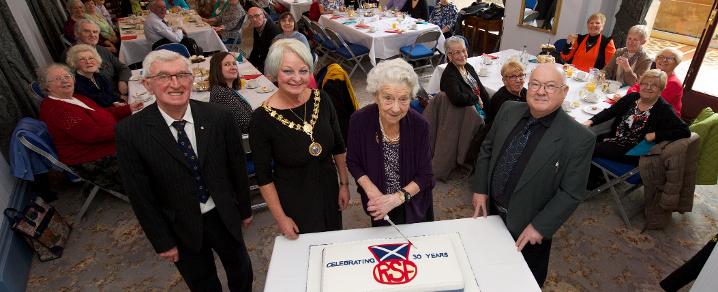 Let's talk about the past 30 years
The Renfrewshire Seniors' Forum was honoured with a civic reception at Paisley Town Hall to recognise their 30th anniversary year.
Around 50 Forum members gathered to honour three decades of support, advice and information for older people in Renfrewshire.
Renfrewshire's Provost Anne Hall attended the event and spoke about the importance of the Seniors' Forum in giving older people a voice.
Provost Hall said: "The Senior's Forum is a fantastic outlet for older people to meet with their peers and discuss issues which directly affect their lives.
"It is important that seniors do not live in isolation as they advance in age so community groups such as this are vital to ensuring there is a place where they can form relationships.
"Running this organisation for 30 years is a terrific achievement and I hope they continue on for many more years to come."
Founded in 1987, the Renfrewshire Seniors' Forum is an umbrella group for eight local forums which meet to highlight any issues which may affect seniors in the area.
Organisations such as the Council, the Police and the NHS, use the Seniors' Forum when they want to contact and distribute information relevant to the over 50s.
The Forum organises campaigns and questionnaires when delegates bring a concern to the forum to allow older people the chance to air their views
They also work closely with Active Communities, Reaching Older Adults in Renfrewshire (ROAR) and Age UK to provide opportunities for interaction.
Renfrewshire Seniors' Forum Chairman, Bill MacDonald, said: "It's brilliant for all our members to see the Forum's 30th anniversary being recognised in the manner of a civic reception.
"Bringing together seniors in Renfrewshire gives them an opportunity to not only make friends, but also to make a difference to their community through providing their views on current affairs.
"We're always ready to welcome new members and would encourage anyone who feels it would be of interest to them to come along and join the forum."
Published 10/03/17