Roadworks investment underway in Linwood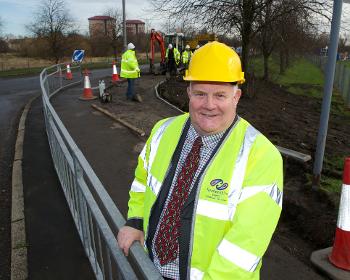 A £150,000 programme of roadworks is underway aimed at improving traffic flow and road safety at a busy location in Linwood.
New traffic signals are being installed at the junction of Stirling Drive and Clippens Road in Linwood. Street parking outside the shops will be formalised.
A new Toucan crossing will also be installed near to Kintyre play park. This crossing provides access to the existing national cycle route and also provides a safe crossing point for pedestrians and cyclists.
Council bosses have pledged to minimise disruption at morning and afternoon peak times and the works are being carried out between 9.30am and 3.30pm.
The six-week programme is expected to be completed by the end of the month.
Councillor Eddie Devine, Convener of Renfrewshire Council's Environment Board, said: "I know that the local community will welcome this significant investment in improving road safety and traffic flow.
"We are doing all we can to minimise any inconvenience while the works are carried out and drivers and pedestrians will soon be able to see the benefit.
"Recently the council announced its biggest-ever single year roads investment - £6.7million for 2017-18 and we will be developing our programme of further roads upgrades and maintenance over the coming months."
Published 10/03/17