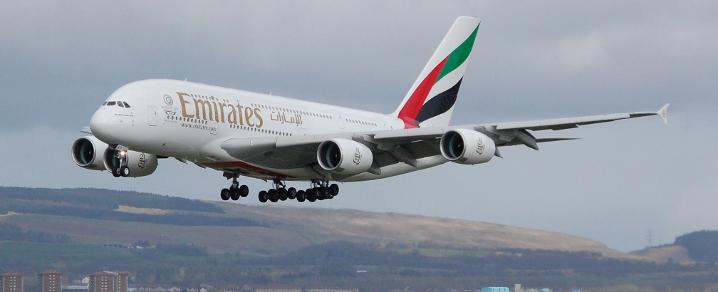 Locating in Renfrewshire, Scotland's Gateway to the world
A growing economy; land, sea and air connections; a calibre workforce; and a true choice of premises with flexible planning options.
Tremendous economic growth
A GVA of £2.8 billion.
Impressive expansion of key service, manufacturing and real estate sectors.
Three of the Glasgow City Region City Deal's infrastructure projects; the Glasgow Airport Investment Area , Renfrew Riverside and Airport Access Projects represent a total investment of £274 million and emphasise Renfrewshire's pivotal position in the regional economy.
Tremendous land, sea and air connectivity
We're right on the motorway network and 12 minutes by road from Glasgow City Centre.
The River Clyde runs through Renfrewshire where docking facilities support exports, imports and large load transport.
We're home to Glasgow International Airport, UK Airport of the Year, offering direct flights to more than 130 destinations throughout Europe, North America and the Middle East.
A tremendous work force
Our active workforce exceeds 74,000 while 2 million other people live within an hour's drive.
44% of our school leavers enter higher education, beating the Scottish average of 39%
Our highly skilled workforce earns more per week than in any other area in Scotland
Tremendous innovation and industry
We're known worldwide for our heritage of textiles design innovation and production.
These enterprising values have powered successes in engineering, manufacturing, distribution and service industries.
Renfrewshire is home to the University of the West of Scotland and to West College Scotland. Their presence contributes to our workforce's skills and vocational training. They also offer businesses research and collaboration opportunities.
Tremendous choice
Locating businesses can choose to buy or lease fully flexible premises, of all sizes, in town or out-of-town locations.
Renfrewshire is home to Scotland's largest business park, Hillington, which is also Scotland's only industrial Simplified Planning Zone and particularly attractive to businesses seeking the flexibility to expand or adapt their premises to meet market demands and opportunities. We're also home to Scotland's largest secure industrial park, Westway, part of City Deal's Glasgow Airport Investment Area investment and positioned to benefit hugely from the new Clyde Bridge at Renfrew.
The highly successful Invest in Renfrewshire business growth and employability programme, together with Business Gateway and Scottish Enterprise can offer advice and support to relocating and growing businesses.
A tremendous cultural offer
Renfrewshire's textiles heritage has left it rich in cultural assets; architecture, art, music, literature and social history.
Our largest town, Paisley, is bidding to become UK City of Culture for 2021. The bid process, the partnerships involved and the programme of events and cultural investments will have a creative and stimulating impact throughout Renfrewshire.
Our natural heritage is impressive too, offering outdoor sport and leisure choices for all.
Interested? Download our brochure to see how the figures stack up