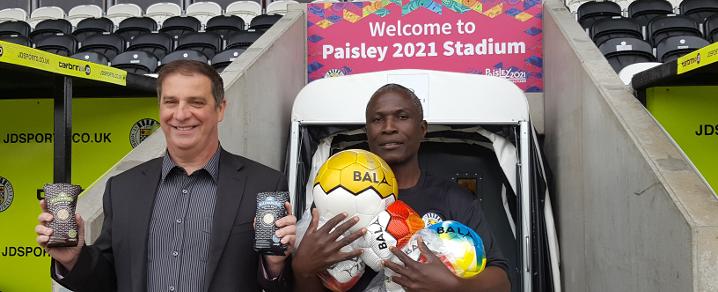 Renfrewshire's Fair Trade to create buddies in Malawi
Renfrewshire has again highlighted its commitment to fair trade with the donation of footballs and kit to youth teams in Malawi.
St Mirren CEO Tony Fitzpatrick invited Howard Msukwa & Kenneth Mwakasungula to the Paisley 2021 Stadium to present the farmers with the donation- which will see youth teams in the Karonga district of Malawi adopt the club's strip.
The smallholder farmers were in town for the launch of their Fairtrade Kilombero rice which has just been launched into Co-op stores in Scotland.
The rice is grown by subsistence farmers in Karonga region of Malawi and sold in partnership with Paisley charity Just Trading Scotland.
The recent Co-op launch is a great step towards escaping rural poverty for tens of thousands of Malawian smallholder farmers.
Councillor Jim Sharkey, Chair of the Renfrewshire Fairtrade Steering Group, said: "I am delighted that young footballers in Malawi will have access to equipment and opportunity thanks to St Mirren.
"Just Trading Scotland have managed to establish a fruitful relationship between Renfrewshire and Malawi through selling of the Kilombero rice and this is transforming the lives of the rice producers in the country.
"The steering group will continue to support its members to forge similar links and to ensure Renfrewshire continues to make a difference through fair trade."
Tony Fitzpatrick, CEO of St Mirren said: "When I heard about Kilombero rice arriving in Scotland, via Paisley, I thought it would be a great chance to show St Mirren' support for this great cause.
"Personally, I have supported an orphanage project in Malawi and the club welcomed the president of Malawi a few years ago, so the chance to welcome these gentlemen from Karonga was not to be missed. We have sent them away with balls and St Mirren kit and balls from Fairtrade football company Bala Sports for the youth teams in Malawi.
"We are delighted to discover the Kilombero rice carries the St Mirren colours, and maybe one day we may see a Malawian footballer take the pitch for St Mirren."
Howard Msukwa, Kilombero rice farmer from Malawi said: "When the Karonga smallholder cooperative began- our partnership with Just Trading Scotland- our dream was to sell our rice in Scotland. We have seen our Kilombero rice in Co-op stores and have been welcomed to the St Mirren Football stadium. A great day.
"We would like to thank Tony Fitzpatrick and the St Mirren club for their gift to the Karonga district footballers. We hope one day to see Malawian players in Scottish football."
You can purchase Kilombero rice from Co-op stores in Scotland.
For more information please contact Just Trading Scotland on 0141 255 0901 or wade@jts.co.uk

About Just Trading Scotland
Based in Paisley in the West of Scotland, JTS is a fair trade organisation set up to facilitate the import and distribution of fairly traded products to the UK.
JTS empower and educate producers and consumers, through the fair purchasing and sale of food products from the developing world, mainly Malawi.
JTS seeks to provide sustainable incomes and wellbeing for smallholder farmers, producers and their families.
For more information about Just Trading Scotland, visit www.jts.co.uk