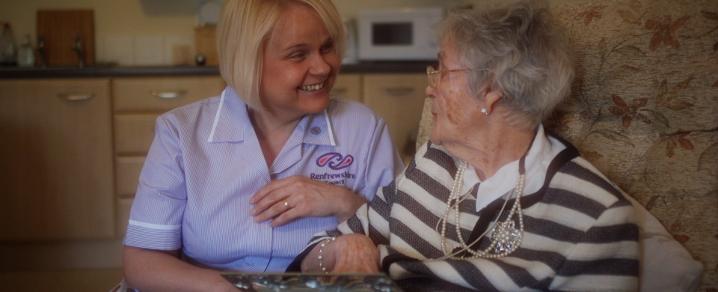 Careers in caring
The hunt is on to find caring people to fill vacancies with the Renfrewshire Health and Social Care Partnership's Care at Home Service.
The Care at Home Service is designed to help people live safely and independently in their own homes for as long as they can.
Councillor Iain McMillan, Chair of the Renfrewshire Health and Social Care Partnership, said, "Older people have told us that they want to stay in their own homes. The Care at Home Service provides the help and support that they need to do just that. Our population is changing. More people are living longer so we need more Care at Home staff. We now have a range of well paid jobs available for people who want to make a difference to their community."
Linda Wardrope (44) from Arkleston has worked for the service for the last eight years, "I was in admin work before I started here and I'd never go back. It's such a satisfying job. It can be challenging but I really enjoy it."
Her colleague, Lorna Leitch (50) from Foxbar, agreed, "We deal with a lot of different issues for a lot of different people. Most of the people we work with are over 65 but we do support younger adults too. They smile when they see you coming and enjoy your visit. You see the difference in people. Their self esteem picks up. It makes a huge difference. That's one of the most satisfying parts of the job - seeing the change in people.
"It's important to provide people with a routine. We come in and make breakfast if that's what the person needs, or we give them their medication or help them get washed. Some people need help to get dressed, some don't and some just need a little bit of encouragement."
The Care at Home Service is a major part of the drive to ensure people don't have to stay in hospital longer than they have to, by providing the help they need to go home.
Lorna summed up the essence of the job, "Sometimes it's just about doing the small things so that people can get back on their feet. You help people to get back to where they were. We make a difference."
Care at Home workers get £8.33 an hour, guaranteed hours (25 hour, 4 on/4 off contract) and the opportunity to join a pension scheme. There is also a training and development programme which will helps applicants to build their career and secure the qualifications needed to register with the Scottish Social Services Council.
Apply online or call 0300 300 0330 for an application pack.