Astronauts will make Paisley space festival 'out of this world'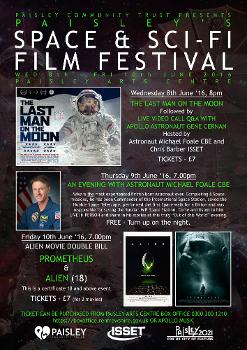 Paisley's growing cultural and events reputation is set to be given an 'out of this world' boost next month.
The last man to walk on the moon, and a renowned British-born astronaut, are set to bring an extra special atmosphere to a new Paisley festival.
The inaugural Paisley Space & Sci-Fi Film festival takes place from 8-10 June and features three events on three successive evenings at Paisley Arts Centre.
The festival kicks off with a screening of the documentary, The Last Man On The Moon, which is followed by a LIVE video link up and Q and A session with the film's subject, Apollo astronaut legend, Gene Cernan, 82, one of only twelve men to have ever set foot on the moon.
The session will be co-hosted by British-born NASA astronaut Michael Foale CBE, who will appear in person on Thursday 9 June to share his amazing journey to the stars and his career in space.
Friday 10th June will see the showing of the classic alien double bill of Prometheus and Alien to conclude the festival
Michael Foale will also be in Paisley to help lead the third staging of a pioneering space school .from 6-10 June.
The unique Mission Discovery programme, run by the International Space School Educational Trust (ISSET), will give over 200 young people from schools in Renfrewshire, Inverclyde and East Renfrewshire the chance to learn at first hand from NASA's approach to science, technology, engineering and maths (STEM) along with leadership, team building and personal development.
Fostering interest in STEM subjects is a key aim with the incentive of an experiment by the winning team of pupils being blasted into space and conducted on the International Space Station. Renfrewshire has already made the history books by sending the first ever Scottish school experiment into space in 2017.
Renfrewshire Council Leader Mark Macmillan said: "Paisley's bid to be UK City of Culture 2021 is attracting increasing interest and support as we capitalise on an innovative, community-based and culture-led approach to town centre regeneration.
"This new festival is another example of the creativity and high quality events that are boosting Paisley's reputation at home and abroad.
"Festival-goers will have unique access to two of the most fascinating exponents of space exploration of their respective generations.
"They have fascinating stories to tell and it is a real coup for our community that they are telling those stories in Paisley."
Andy Campbell, Trustee of Paisley Community Trust and Commercial Director Europe of ISSET, said: "Yet again Paisley and Renfrewshire are making history and leading the way in STEM education for our young people,
"Not only have we launched the first Scottish school experiment into space, we will speak live to the last man to walk on the moon.
"I am delighted that the inspirational message and goals featured in the Mission Discovery programme are being shared with the wider public through this exciting new festival.
"We have had tremendous support from NASA in helping to arrange access to our two guests and I know they will deliver a rare insight into one their amazing experiences and outstanding achievements."
Tickets costing £7 each for the film nights can be purchased from Paisley Arts Centre Box Office on 0300 300 1210, or Apollo Music, 48 Causeyside Street, Paisley, or go to boxoffice.renfrewshire.gov.uk
An Evening With Astronaut Michael Foale CBE is free and people can secure a seat on Eventbrite http://bit.ly/1WjMLJF or turn up on the evening of 9 June at Paisley Arts Centre for a 7pm start on a first come basis.
Full details of the events will be available at paisley2021.co.uk
Ends
John McKenzie
Renfrewshire Council Communications
0141 618 7399