Provost's Distinction Certificate 2017
The Distinction Certificates provide the Provost the opportunity to recognise community members who have came to her attention for the positive difference they have made to Renfrewshire.
Individuals who have been awarded a Provost's Distinction Certificate include:
Tony Fitzpatrick
Tony has penned the book The Promise: Together Again, many funeral homes and Directors are using the book to help Children understand and come to terms with the loss of a loved one. Tony wrote the book after his own personal experience after losing his 6 year old son Tony Jnr to Acute Myeloid Leukemia.
Ann Grieve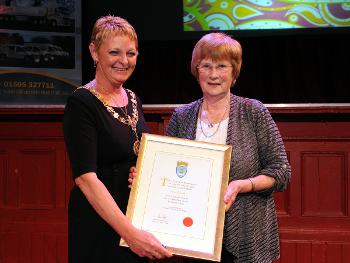 Ann Grieve has an established and successful record of volunteering within the community of Kilbarchan for more than 20 years, which continued on after the death of her late husband Iain. Ann has volunteered her service with KIPCO, Kilbarchan Community Council and also has an active involvement within her local Church.
Margaret Smith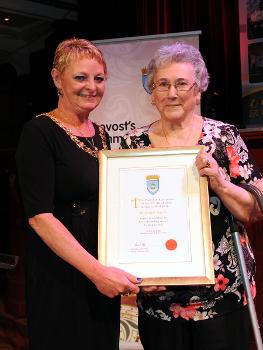 Since the inception Beechwood Community Centre twenty six years ago, Margaret has been the driving force, a stalwart of its Management Committee and the current Chairperson.
Pensioners Clubs, Fitness clubs, After School care, Lunch Clubs - every activity at the Beechwood Community Centre - Margaret has been at the heart of it.
James Wardrop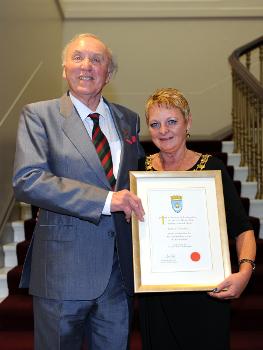 James has been a real community stalwart for over 40 years having previously serving as Chairman of Accord Hospice and also a Depute Lieutenant for Renfrewshire, only retiring from this very recently. He still volunteers in many other local groups as well as being a church elder for over 40 years. Jim still holds responsibility within the community serving as the Vice Chairman of Renfrewshire Committee on Alcoholism, President of the Paisley Battalion of the Boys Brigade as well as being the Honorary President of Accord Hospice and Paisley Art Institute to name but a few.
Gordon Lethorn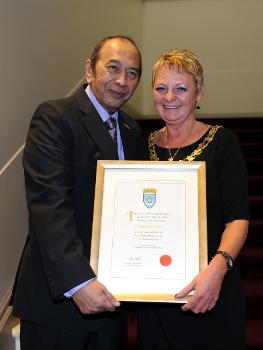 Gordon has been part of the local tenants and residents association in Bridge of Weir for more than 20 years. He has been the chair for in excess of 10 years and under his stewardship it has developed into a vibrant, challenging and supportive organisation, which does a great deal for tenants and residents. Gordon also has involvement in the Tenants Scrutiny Panel, Bridge of Weir Community Council and Renfrewshire Licensing Forum as well as an active member of his local church.
Elizabeth Anderson & Margaret Gourlay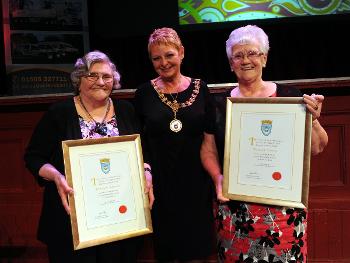 Elizabeth & Margaret were instrumental in the setting up of the Renfrewshire Wide Credit Union and have volunteered with the service for the last 30 years, holding various positions on the Management Committee throughout the years.
Maureen Brough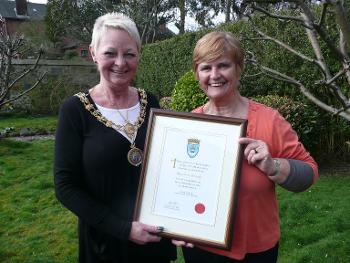 Maureen has been chair of the Paisley Fairtrade Partnership for the last 11 eleven years but has stepped down this year.
As chair, Maureen has been instrumental in bringing Fairtrade to Renfrewshire and raising awareness of the campaign.
Maureen leaves a legacy that will be built on in the future with many people benefitting from her enthusiasm and positive attitude.
Lesley Compston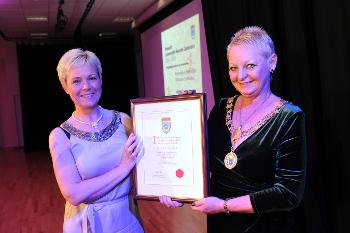 Lesley has played many roles within the Linwood Community including leader of Linwood Active. Many people look to her for help and guidance.
As a businesswoman, Lesley has employed local residents in her company. Despite all of these commitments she is still able to lead the local running group.
Lesley has the energy and drive that encourages other to want to make a difference and she is a fantastic role model for other young women in our community.
Jessie James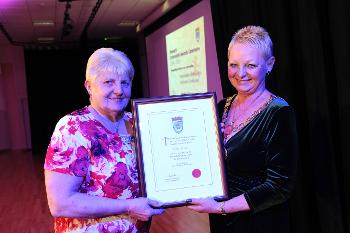 Since the inception of Beechwood Community Centre twenty five years ago, Jessie has been the driving force behind its Management Committee.
Jessie is always at the heart of the activities at the centre, including pensioners clubs, fitness clubs, after school care and lunch clubs.
Our communities bloom because of people like Jessie, who are committed and preserve to enrich the lives of others.
Robert Knox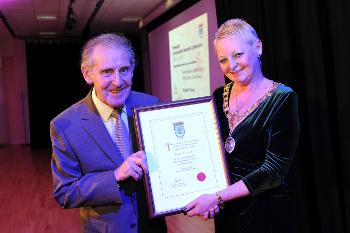 Robert is the Chairperson of the Charleston Tenants and Residents Association, where he has been a member for over 40 years.
He provides excellent advocacy for tenants and residents and ensures their wellbeing is at the heart of all he does.
The tenacity of Robert has helped to shape a better environment for his community, which will benefit generations to come.
Margaret Lavery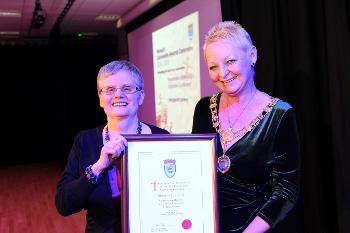 Margaret is Vice-Chair and Secretary of Quarrelton Tenants and Residents Association and has been a member for 25 years.
In the 1970's Margaret was a student nurse and she has taken these caring qualities into the role, going above and beyond for the community by looking after neighbours and cleaning and gritting the streets.
In addition to attending the various forums, consultations and meeting of the Community Council, Margaret is also a carer for an elderly relative.
Elizabeth McLean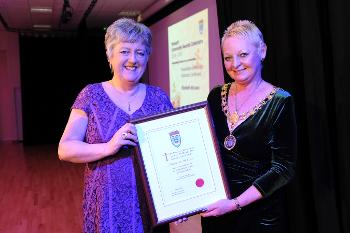 Elizabeth has been involved in a number of volunteering roles over the last 20 years in the Renfrewshire area, including WRVS Befriender Service and the maternity Loss Group at the RAH.
Elizabeth helps out at various fundraising event and is currently fundraising for the local charity Renfrewshire Sound (the talking newspaper for the blind).
The voluntary work she carries out requires compassion and empathy and Elizabeth listens to the needs of all the people she works with to help make their lives better.
Alan Madden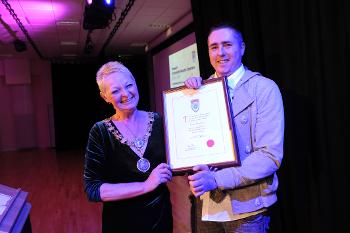 Alan is a young man who has had to overcome many obstacles during his life. His addictions led to crime to fund his habit.
This inevitably led to prison - Alan spent almost seven years of his life in prison. However, during his time in prison Alan found faith in God, overcame his addiction and became involved in the National Vocational Rehabilitation Service.
Since then Alan has worked hard to share his story with others so that they do not make the same mistakes.
Sheila Patterson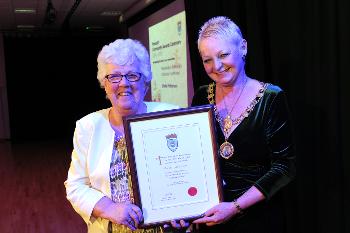 Sheila is the Chair of the Bridge of Weir Senior Citizens Association.
Alongside her Committee colleagues, Sheila is the driving force behind a very active group that organises day trips and operate a monthly social night in the Cargill hall between September and April every year.
Sheila also visits elderly people in the village or in hospital and can be often found doing errands for them.
Doreen Polson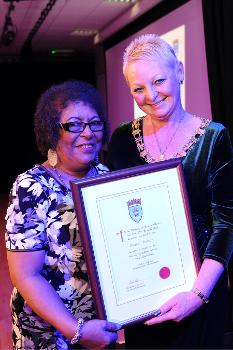 Doreen has worked tirelessly for many years for the community in a number of groups and committees.
She has held the position of Chair of the committee for self-managed community hall at Spey Avenue, is one of the two community activists trying to establish the new Foxbar and Brediland Community Council and is a frequent attendee at Local Area Committees where she ensures that the interests of Foxbar are made known.
Doreen is also a frequent attendee at Local Area Committees where she ensures that the interests of Foxbar are made known.
David Woodrow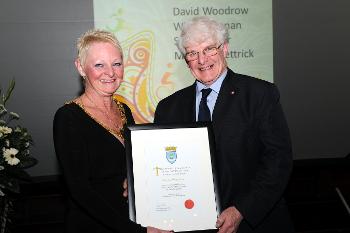 David has dedicated much of his life to Bishopton and has been its postmaster since 1970.
Since his youth, David has been involved in the Scouts and took up the role of Area Commissioner and later District Chair for Renfrewshire.
David also took up the role of Chair of the Community Council and help set up the Community Liaison Group as a vehicle for BAE, the villagers of Bishopton and Renfrewshire Council on the development of the former Royal Ordnance Factory.
Wilma Keenan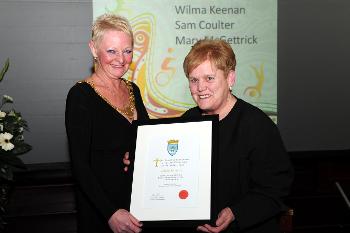 Wilma spent much of her working life in residential social care and was known for her nurturing and positive influence on the young people she came into contact with.
In her spare time, Wilma was actively involved in the local Girls Brigade in Johnstone, where she was captain for many years.
Wilma has also dedicated much of her life to her local church, St John's Episcopal Church, and taken up many roles including hospital volunteer driver, licensed pastoral assistant and is a keen supporter of the Healing Rooms project.
Mary McGettrick
James McGettrick accepts Mary McGettrick's Distinction Certificate from Provost Anne Hall.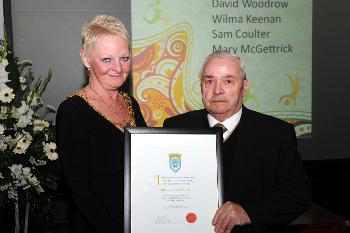 During the sixties and seventies, Mary devoted her time to helping out at the wee Red School. Mary worked throughout the school summer holidays and helped to organise trips, games, competitions, arts and crafts and the tuckshop alongside Community Police.
Mary was involved in many community events, including the Santa's grotto, the over 50's club and fundraising for Accord Hospice, St Vincent's Hospice and Erskine.
For almost twenty years of her life, Mary showed her love of giving by working in the Community Centre three to five times a week.
Sam Coulter
Gordon Coulter accepts Sam Coulter's Distinction Certificate from Provost Anne Hall.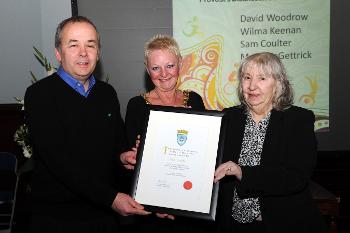 From 1980 until 2012, Sam served on Erskine's Community Council, taking on a large number of roles during this period.
Sam played a huge part in a number of local campaigns, including the closure of the tolls on Erskine Bridge, saving Boden Boo in Erskine and supporting the Erskine Festival for many years.
Never one to take any recognition for his hard work, Sam was happy to help and is sadly missed by all organisations and groups within Erskine.