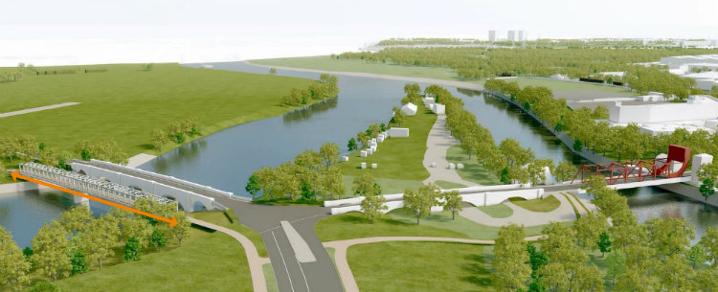 Overnight road closures as Black Cart bridge craned into position
A phase of overnight road closures will be in place later this month as a new pedestrian and cycle bridge is craned into position over the Black Cart river.
The bridge - which will open for public use in spring 2021 - forms part of a series of new connections into the Advanced Manufacturing Innovation District Scotland (AMIDS) being developed by Renfrewshire Council next to Glasgow Airport.
Wills Bros Civil Engineering is delivering the underpinning infrastructure through the Glasgow City Region City Deal funded Glasgow Airport Investment Area project.
Initial phases to progress realignment of the junction of the A8 Greenock Road, Inchinnan Road and Abbotsinch Road were recently completed ahead of schedule.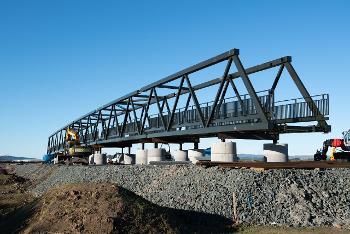 Now, engineers will be installing the 160-tonne, 100metre-long steel bridge using two cranes, the complex process taking place overnight when there are no scheduled flights.
The junction will be closed to all vehicles, pedestrians and cyclists from 3pm on Sunday 22 November until 6am on Monday 23 November and each evening, overnight for a maximum further 12 nights, 8pm to 6am, from Monday 23 November, re-opening 6am on Saturday 5 December.
To minimise disruption, new lighting and improvement works will be completed on the Bascule bridge in Renfrew during these closures, which will be lifted early where works are completed ahead of schedule.
We apologise for any inconvenience these closures may cause and ask you to please avoid the area during these times.
We will be capturing footage of the bridge lift and sharing this on our Council social media channels.
Further works to prepare the new bridge for public use and to complete the junction and connect it to the realigned Abbotsinch Road will take place in 2021.
---
Closure information
3pm-6am, Sunday 22 November to Monday 23 November
8pm-6am, overnight for 12 nights, from Monday 23 November, re-opening 6am, Saturday 5 December
The junction of A8 Greenock Road / Inchinnan Road / Abbotsinch Road will be closed to all road users, pedestrians and cyclists, with signposted diversions in place.
Travelling from Paisley, Abbotsinch Road will be closed (except for local and emergency access) from the roundabout at Arran Avenue
Travelling from Renfrew, Inchinnan Road will be closed (except for local and emergency access) from the roundabout at Argyll Avenue, meaning no access over the Bascule bridge
Travelling from Erskine, Bishopton and Inchinnan, Greenock Road will be closed at Inchinnan bridge, with signposted diversion routes in place from the Red Smiddy Roundabout.
Published on Wednesday 4 November 2020