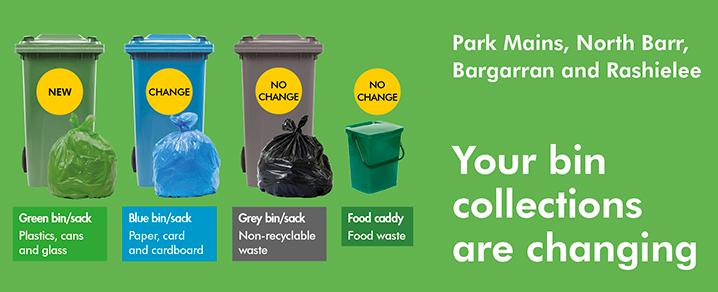 Information for Erskine residents
Residents in Park Mains, Bargarran, Rashielee and North Barr will move to the new recycling service in August 2019.
This webpage aims to provide you with all the information need for a smooth transition onto the new system.
Does this affect me?
This affects residents in Park Mains, Bargarran, North Barr and Rashielee only.
What's changing?
Your recycling will now be split between two bins/sacks (green and blue) rather than just your blue.
Green bin/sack - plastics, cans, cartons and glass*
Blue bin/sack - paper, card and cardboard only.
So your new collection schedule will be:
Grey bin/sack - every two weeks (no change)
Green bin/sack - every four weeks (change)
Blue bin/sack - every four weeks (change)
Green food caddy - every week (no change)
The green and blue bins/sacks will be collected on alternate fortnights - so you'll still have at least one bin collected every week.
This allows us to collect a better quality of material, as well as reducing the cost of disposing waste to landfill.
*For health and safety reasons, glass cannot go into sacks. There are four recycling banks in Erskine where this should be taken to: Mains Drive shops, Bridgewater Shopping Centre, Barwood Park and Barrhill Road Recycling Centre.
So when does this happen?
The new service will at the end of August 2019.
Before your new bin/sack is delivered, we will send you an information guide and collection calendar which will outline your new service, as well as stickers to place on your bin which illustrate what should and should not go in each one.
Please start using your new bin/sack as soon as you receive it.
What information is there to help me?
Alongside your information pack and collection calendar, we are providing a number of measures to help you adapt including:
Roadshows
We're held a number of roadshows throughout July in Erskine to allow people to speak to our team in person and ask any questions.
| | | |
| --- | --- | --- |
| Date | Time | Location |
| Tuesday 9 July | 9.15am-1.00pm | Erskine Library |
| Thursday 11 July | 4.15pm-8.00pm | Bargarran Community Centre |
| Thursday 18 July | 4.15pm-8.00pm | Erskine Library |
| Saturday 20 July | 9.45am-1.30pm | Bargarran Community Centre |
| Monday 22 July | 5.15pm-8.00pm | The Old Farmhouse, Erskine |
| Sunday 28 July | 10.15am-2.00pm | The Old Farmhouse, Erskine |
If you missed these, please get in touch with us to ask any question - My Bins.
Why are we changing the collection service?
The majority of Renfrewshire moved to the new service in December 2018, but parts of Erskine need a more bespoke approach which is why the new service is being introduced now.
We need to meet tough recycling targets, including sending a maximum of 5% of household waste to landfill and ensuring a recycling rate of 70% by 2025 - our rate in 2018 was 49.2%.
Therefore, this is one of a number of measures we are putting in place to increase our recycling rate and the new green bin/sack will improve the quality of recycling we collect.
I need support, how do I get it?
We know this change will take some getting used to but by using the information above, we hope that it will allow you to settle into the service relatively quickly.
If you need support, you can get in touch via email - My Bins -, following us on social media - Facebook and Twitter - where we'll respond where we can, or calling the Customer Service Centre on 0300 300 0300.